Phoenix Personal Injury Attorneys
Let Us Help You Recover the Compensation You Deserve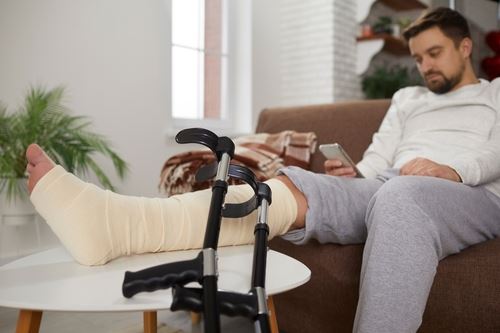 When pursuing a personal injury claim, you need an attorney who will aggressively fight for your interests. Our Phoenix personal injury attorney at IBF Law Group are prepared to assist you in a wide variety of personal injury cases.
We are empathetic to the emotional, practical, and monetary hardships you can experience when recovering from an injury and will do everything possible to advocate for you and pursue the compensation you deserve.
---
To see how we can help you with your personal injury claim, call (602) 833-1110or contact us onlineto schedule a consultation.
---
What Are My Rights Under Personal Injury Law?
When are you injured as a direct result of the actions or negligence of another individual or entity, you are likely entitled to some level of compensation.
In addition to navigating the arduous road of recuperating from your physical and emotional injuries, you will likely need to recover monetary damages in order to keep your life on track. After all, when you are injured, medical care can easily result in exorbitant, unanticipated bills.
Furthermore, if your injury or resulting medical care prevents you from working, you are entitled to compensation to make up for your lost income or wages.
Why Do I Need a Personal Injury Lawyer?
Personal injury cases can vary in size, type, and complexity. Whether you are managing a broken wrist from a slip and fall or a long-term spinal injury from a vehicle collision, our Phoenix personal injury lawyer at IBF Law Group is prepared to fight to get you the maximum level of compensation you are owed. We strongly believe that victims of negligence should not be paying for their medical treatment or have to worry about missed or lost wages. Our team has a thorough understanding of how Arizona personal injury claims are litigated and will do everything possible to negotiate the best possible outcome for your case.
Personal Injury Cases We Handle
Personal injury incidents take many forms, each requiring a specific legal strategy. No matter the size or complexity of your case, we are prepared to do whatever it takes to recover the damages you deserve.
Our Phoenix personal injury attorney can assist you with the following types of personal injury cases:
Car Accidents. If you are injured in a wreck as a result of another driver's negligence, you could be eligible to recover damages, especially if the other driver was texting while driving, driving under the influence, or not following the rules of the road. Arizona also allows you to pursue personal injury claims against another negligent driver even if you were partially responsible for a collision.
Catastrophic Injury. These types of serious, debilitating injuries, which include severe burns, limb amputations, and traumatic brain injuries, can result in extended hospital stays, long-term care, overwhelming medical bills, and even an inability to return to your job or maintain meaningful employment. No matter how the injury was caused, you will need qualified legal representation to ensure you recover the damages you need to manage its long-term financial implications.
Construction Accidents. Construction is an inherently risky occupation, but that is no excuse for negligent behavior, relaxed safety protocols, or defective equipment. All of these factors can lead to serious injuries and even death. If another party is at fault for the incident, a personal injury lawsuit can help recover damages, often with more monetary compensation than what an employee might receive through workers' compensation.
Bicycle Accidents. Arizona's warm client makes cycling an appealing transportation or leisure option, but some drivers routinely refuse to share the road. Negligent actions from a motorist can lead to devastating injuries. A personal injury claim against a driver can help recover some of the damages you will need to financially recover.
Boat Accidents. Watercraft accidents can be startlingly common, especially if a negligent operator does not follow local and state rules governing boating. In addition to physical injuries, boating accidents often result in significant property damage. A successful personal injury claim can pursue compensation for both categories.
Dog Bites. Arizona is one of several states that enforces "strict liability" rules for pet owners. Should a dog attack or bite you, the owner is liable, even if they were not aware of the animal's actions or took steps to prevent any injury. It is important to note that Arizona also has a briefer statute of limitations than in other personal injury cases: Victims must file within 1 year of the incident.
Elder Abuse. When you place an elderly loved one in the care of a nursing home, assisted living facility, or residence of a loved one, you expect that they will be given the utmost level of attention and care. Should this trust be severed and an elder abused as a result of negligence, you will need to pursue a personal injury claim to recover damages.
Motorcycle Accidents. The unique vulnerability of motorcyclists can result in severe consequences in the event of a collision. Many motorists express negligence by failing to take motorcyclists into account, resulting in horrible accidents that can leave the victim with permanent injuries. These long-term effects often necessitate the need to recover extensive damages.
Pedestrian Accidents. As of 2017, Arizona has the most pedestrian injuries and deaths of any state. Regulations require motorists yield to pedestrians, yet many drivers express negligence by operating their vehicle recklessly or engaging in distracted driving. A successful personal injury claim can help victims recover the damages they need following a pedestrian-related incident.
Premises Liability. This is a broad category that applies to business owners and property owners throughout the state of Arizona. Any owner of property is responsible for preventing injuries of those who enter that property, and failure to live up to that obligation can open them to liability. If you have been injured on a business or person's property as a result of poor maintenance, unsafe conditions, or any other reasons stemming from the owner's negligence, you likely have a personal injury case.
Slip and Fall Accidents. You might not associate a simple fall with something requiring a personal injury claim, but the reality is falling the wrong way in the wrong place can result in extremely damaging injuries. Falling under the category of premises liability, victims of slip and fall accidents may be entitled to compensation if a property owner failed to protect individuals in their facility. This can include situations where the injury was the result of slick floors are not properly cleaned, marked, or cordoned off, or if the railing on a stairwell is in disrepair.
Truck Accidents. The inherent size of trucks makes collisions involving the vehicles some of the most dangerous of traffic accidents. Long days on the road can also push truckers beyond their limits, resulting in drowsy, negligent driving that leads to devastating incidents. Litigating these types of personal injury claims can be especially challenging to navigate if the driver involved was a subcontractor for a larger company.
Wrongful Death. The most unthinkable scenario is one where someone dies as a result of another party's negligence. Spouses, children, parents, or an estate representative of the deceased can file a wrongful death claim against a perpetrator, and while compensation will never replace your loved one, you may be entitled to damages covering funeral expenses, lost wages, medical bills, and pain and suffering.
Our Phoenix personal injury attorneys have the experience to help you get what you deserve. Contact our team today for more information on how we can help.
What Is the Statute of Limitations for Personal Injury in Arizona?
If you are injured as a result of someone else's negligence and wish to seek compensation, you will need to act efficiently. The statute of limitations for personal injury claims in Arizona is 2 years from the date you suffered the injury.
There are some situations where you can potentially pursue a personal injury claim beyond the traditional statute of limitations. In situations where an incident resulted in an injury that you did not realize existed until a later date, you will in many situations have 2 years from the date of the discovery of that injury. For example, a slip and fall scenario could result in a fractured rib, which you do not learn about until you visit your doctor several weeks later.
Similar to the limitations on personal injury claims, the statute of limitations on property damage is two years from the day the property damage occurs. This means that you have two years to file a civil lawsuit against a person or parties who caused damage to your property in Arizona.
Our team is familiar with Arizona's statutes of limitations surrounding personal injury cases and can work to ensure your claim is efficiently filed. If you only later discovered an injury as a result of an incident, we can help you understand if you may have a case.
How are "Damages" Defined in Arizona Personal Injury Cases?
When we say we want to help you pursue "damages" in a personal injury claim, we are referring to compensation a victim may be legally entitled to. The laws defining damages varies by state, but in Arizona, there are two categories of damages that can be considered.
Compensatory Damages
Compensatory damages are meant to reimburse the victim for the injuries they experienced as a result of the incident. This number can be estimated or rooted in hard, material costs.
Elements that are typically considered when exploring compensatory damages include:
Healthcare bills
Property damage
Lost income or wages
Long-term disability
Loss of quality of life
Compensatory damages also include any estimated value assigned to pain and suffering.
Punitive Damages
Punitive damages are designed to discipline the individual or entity who was responsible for the personal injury. The issuing of these additional damages is meant to incentivize the person or entity to change their behavior to prevent future problems. For example, this can be common in scenarios where a business's failure to follow proper safety procedures continues to result in customer or employee injury. Note that punitive damages are not always awarded and are typically only explored in instances of egregious or repeated offenses.
Prepared to Recover Damages for You
Our personal injury lawyer in Phoenix understands how pivotal damages are to a victim of a personal injury incident. No person injured because of the negligence of another party should be responsible for overwhelming medical bills and the financial burden of missed work. We can help you pursue the compensation you deserve by seeking the maximum amount of damages possible. Our firm has a thorough understanding of Arizona's laws and regulations surrounding personal injury awards, and our litigation and negotiation skills equip us with the ability to obtain a level of compensation that will help you overcome the financial obstacles that are inherent to an unexpected injury.
---
Do not wait to get started on your personal injury claim. Call (602) 833-1110or contact us onlineto schedule a time to speak with our team.
---