Phoenix Immigration Lawyer
Experienced Representation in Immigration Matters For Clients in Arizona
United States immigration law is complex, and the legal requirements are frequently changing. For this reason, it is important to choose the right immigration lawyer near you. At IBF Law Group, we have extensive knowledge of immigration law and serve clients from Phoenix to Albuquerque. We understand that everyone is different and each case requires a unique approach. You can rely on us to provide legal representation that is tailored to your circumstances.
---
To schedule a consultation with a Phoenix immigration attorney, contact us at (602) 833-1110 or fill out a contact form! We have a Spanish interpreter on staff!
---
Handling All Types of Immigration Cases
Whether you are seeking asylum, fighting deportation, or want to bring a family member to the United States, we will help you navigate the process. Our immigration attorneys in Phoenix have extensive legal knowledge and handles a broad range of immigration law cases for our clients, including complex and intricate cases.
Our firm provides skilled legal representation for:
Asylum
Cancellation of removal
Employment based visas
Investment-based immigration
International adoption
Visitor and student visas
We work closely with you throughout your case and keep you informed in every stage of the process. We also have a Spanish interpreter in our firm, and we are able to secure the services of an interpreter for any other language to provide you with the personal attention and quality representation you deserve. If you are dealing with a complicated immigration matter as an individual or involving your employment, family, education, our Phoenix immigration lawyers are here for you. Do not hesitate to reach out to us today.
Why People Immigrate to the United States
People immigrate to the U.S. for a variety of reasons such as:
Obtaining basic freedoms
Obtaining employment
Seeking asylum to escape persecution
Pursuing investment opportunities
Reuniting with family members already in the U.S.
Basic Visa Requirements
If you are immigrating to the U.S. it is important to make sure that you are applying for the correct visa based on your situation and that you are able to gather and submit the correct required documents. At IBF Law Group, our Phoenix immigration attorney can guide you every step of the way to ensure that your application and documents are in order, to ensure that everything goes smoothly and as efficiently as possible.
Below are examples of commonly required documents and actions for visas:
Passport
Original birth certificate
Diplomas
Medical records (such as immunization)
Proof that you are living in the U.S.
Passing a background check
Passing a physical exam
Common Types of Visas Available
There are two types of visas: immigrant and nonimmigrant, or temporary visas. The one you will need to apply for is based on the reason why you are traveling to the United States.
Immigrant visas are for those who wish to live in the U.S. permanently. Eventually, they will need to apply for a green card.
Common examples of immigrant visas are:
K Visas -- for fiance or spouse of a U.S. citizen
IR Visas -- for immediate relatives
Work Visas
Common examples of nonimmigrant visas are:
A Visas - for foreign government officials or diplomats
B Visas - business or tourism
F Visas - for foreign students
H Visas
For Dedicated Representation In Your Immigration Matter, Call

(602) 833-1110
Most of us are immigrants, so we understand the desire to strive for a better life in America and the stress that arises during the legal immigration process. Our Phoenix immigration lawyer is dedicated to helping our clients navigate the complexities of the law. We offer a consultation for you to get advice that is specific to your situation.
---
Call (602) 833-1110 for a consultation with our immigration lawyers in Phoenix. We also serve clients in Albuquerque, NM.
---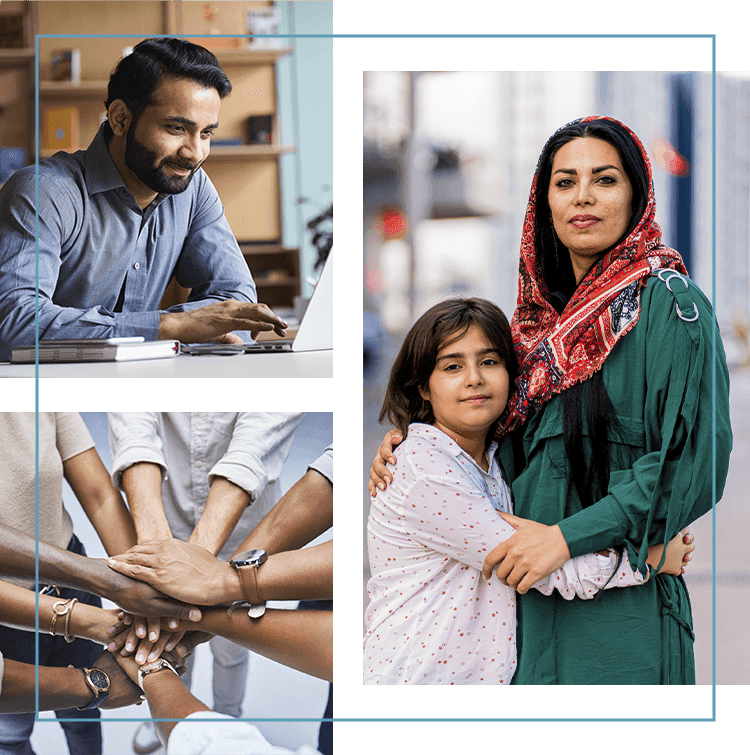 Multilingual Services

We can help you no matter what language you speak. Our firm will hire an interpreter to help with your case until it has been resolved.

Easy Online Process

IBF makes it easy for you!  All documentation is done online to help simplify the registration process.

Immigrant First, Lawyer Second

Our founding attorney, Sheree, has been through the immigration process herself.

Delivers Results

With first-hand experience going through the immigration process, Attorney Wright is dedicated to obtaining the best possible results for her clients.