Phoenix Deportation Defense Lawyer
Effective Representation for Clients in Arizona
There are few situations in life more severe and emotional than a threat of deportation and being forced to leave your loved ones behind. If you or a family member is threatened with deportation, call IBF Law Group. Our deportation defense attorney in Phoenix has experience with a broad range of immigration situations and has provided skilled representation to many clients who have been threatened with deportation.
---
Please contact us at (602) 833-1110 or online to start planning your deportation defense. IBF Law Group serves clients from Arizona to New Mexico.
---
Experienced in All Matters Involving Removal
Each deportation situation is unique, and some involve both immigration and criminal courts. Our firm has extensive experience with all types of deportation situations and aggressively advocates on behalf of our clients. We take the time to evaluate your situation and help you understand the immigration, and possibly criminal, laws that apply to your case.
Our firm has assisted clients in deportation matters, including:
Grounds of removal
Adjustment of status
Cancellation of removal
Asylum-based release
U visas and waivers for crime victims
Voluntary departures
Prosecutorial discretion and deferred action
Our Phoenix deportation defense lawyer can work with you to develop the most appropriate deportation defense strategy for your unique situation. We guide our clients through the process, provide sound legal advice and an honest evaluation of their situation, and aggressively defend their rights throughout the entire process.
How to Avoid Deportation With a Felony
Avoiding deportation with a felony on your record can be challenging, but there may be some strategies to consider.
Here are some potential options based on the information found:
Petty Offense Exception: If the crime was a minor offense, such as petty theft or simple assault, defense counsel could argue that the offense was not serious enough to warrant deportation.
Cancellation of Removal: Some individuals might be eligible for a "cancellation of removal," which is a form of relief from deportation.
Waivers of Inadmissibility and Removal: Certain immigration violations might be waived, allowing an individual to avoid deportation.
Challenge the Notice to Appear: If you were not properly served with a Notice to Appear, this could be grounds for stopping deportation.
Rehabilitative Measures: Taking proactive steps like attending Narcotics Anonymous (NA) meetings or other rehabilitative programs could potentially help in some cases.
Legal Assistance: Engaging a competent attorney who specializes in immigration law can be crucial. They can explore possible ways to avoid deportation and guide you through the process.
Remember, each case is unique and depends on the circumstances surrounding the criminal conviction and immigration status. Always consult with a legal professional if facing potential deportation.
Representation in Any Language
We understand that many of our clients speak languages other than English. In order to provide the most effective legal representation and communication possible, we have a Spanish interpreter on staff and can provide an interpreter in any other language. We communicate with you frequently and keep you updated on the status of your case at every stage of the legal process.
---
Learn how we can help you avoid deportation. Call (602) 833-1110 for an appointment with an immigration attorney. We have locations in Phoenix and Albuquerque.
---
Deportation Defense Guide
Who Is At Risk for Removal?
Those at most risk for being deported are those who arrived in the United States without authorization or they forged documents in order to enter the country. However, there are also reasons why a lawful permanent resident might receive a notice of removal.
Some reasons why an individual may be removed:
Committing marriage fraud
Conditional permanent status was terminated
Violating the terms of their visa, green card, or other immigration status
Committing a crime of moral turpitude
Committing a crime and being convicted of domestic violence, child abuse or abandonment after being admitted to the U.S.
If you received a notice to appear, our lawyers at IBF Law Group are ready to be your deportation defense guides. You do not need to go through this alone! We can take a look at your situation and identify the solution that will work best for you. Only skilled attorneys who thoroughly understands how deportation works in the U.S. will be of benefit to you.
Protect Your Family and Stay Together
Deportation can be a devastating experience for families, causing emotional distress and separation. At IBF Law Group, our experienced Phoenix deportation defense lawyers are dedicated to helping you protect your family and keep them together. We understand the importance of strong legal representation during this challenging time and will work tirelessly to defend your rights and fight against removal.
Benefits of choosing IBF Law Group for your deportation defense:
Compassionate and understanding attorneys who prioritize your family's well-being
Extensive experience in handling deportation cases in Arizona
Knowledgeable about the intricacies of immigration law and the deportation process
Skilled in developing effective defense strategies tailored to your specific case
Ability to communicate with clients in multiple languages for clear and effective representation
Don't face deportation alone. Contact our Phoenix deportation defense lawyers today to schedule a consultation and begin building a strong defense to protect your family's future.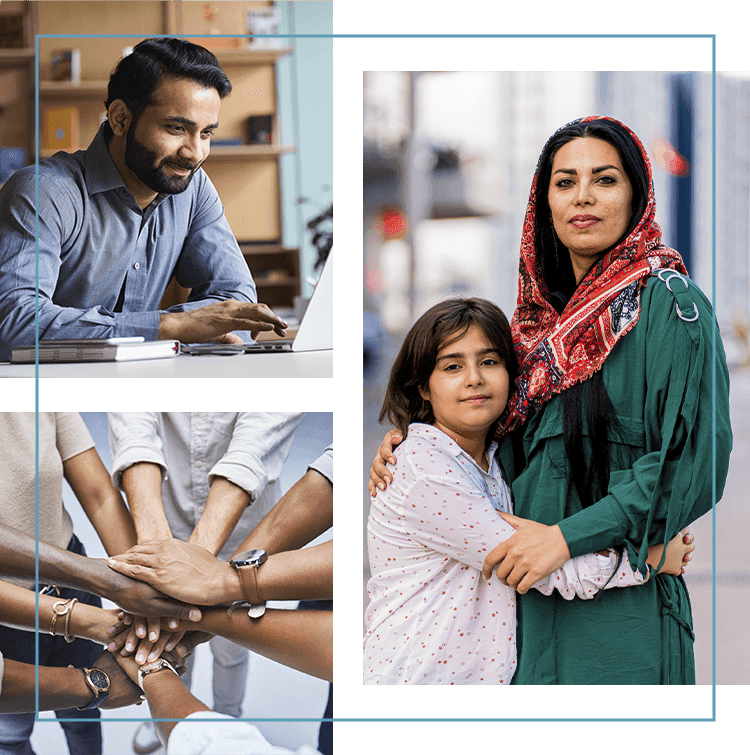 Multilingual Services

We can help you no matter what language you speak. Our firm will hire an interpreter to help with your case until it has been resolved.

Easy Online Process

IBF makes it easy for you!  All documentation is done online to help simplify the registration process.

Immigrant First, Lawyer Second

Our founding attorney, Sheree, has been through the immigration process herself.

Delivers Results

With first-hand experience going through the immigration process, Attorney Wright is dedicated to obtaining the best possible results for her clients.